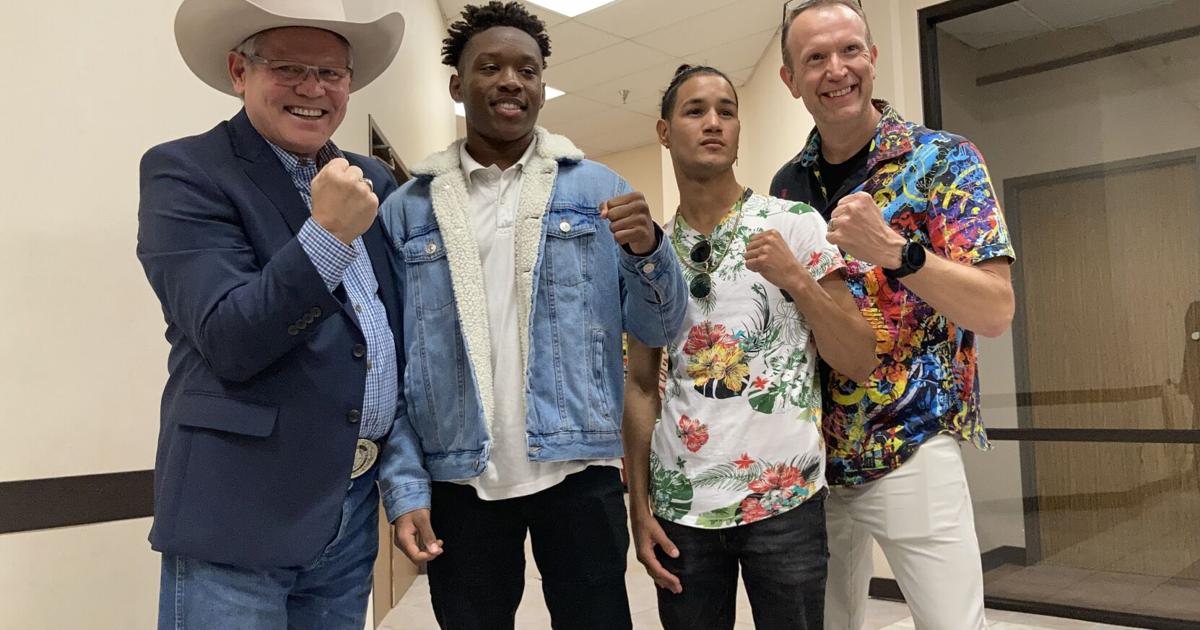 Bay City and Palacios boxers make professional debut | Advosports
BAY CITY – There's a reason Sylvester Stallone's production company is considering making a film about the life of Maurice "Termite" Watkins.
Watkins, 65, became the first person to win a Golden Gloves title at the age of 16 and pursued a professional boxing career that included 61 wins in 68 fights, including 42 by knockout, according to boxrec.com.
He fought Saoul Mamby for the WBC junior welterweight championship and lost a 15-round decision in Las Vegas in 1980 on "The Last Hurray" card with Muhammad Ali and Larry Holmes.
Watkins traveled to Iraq as part of his family's fumigation business – hence his nickname – and ended up coaching the Iraqi Olympic boxing team. He took a fighter to the 2004 Games in Athens, Greece.
But a 2020 fight with COVID-19 that put him in hospital for 35 days and on a ventilator for 19 days has left Watkins with a new outlook on life.
"I realized that people thought about me a lot and that I had a voice," Watkins said. "I decided that my voice would be to help people and to always work with children, to win souls and to make disciples."
Watkins got more involved with his Fighter Nation boxing gym, located at his church in the North Shore area of ​​Harris County.
He also teamed up with Jeff Barnett, owner of Texas Flange, to promote young fighters and give them the opportunity to succeed in and out of the ring.
"I'm going to be able to help a lot of kids, so why not," Watkins said. "Plus, I had a great boxing career. Now I want to help other kids have the opportunity that I got. I have a wife who loves me and I have a pastor who supports me a thousand percent.
Watkins and Barnett traveled to the Bay City Civic Center this week for the signing of Tim Longoria from Palacios and Kanye Gee from Bay City.
The event was promoted by the Bay City Chamber of Commerce and Agriculture, in the presence of County Judge Nate McDonald and members of the Bay City School District.
Longoria, 24, has been ranked in the country's top 10 amateur fighters for seven consecutive years and is coached by her uncle, Lupe Longoria, at the Soldiers of Christ Boxing Club in Palacios.
Gee, 17, has won seven Golden Gloves titles and trains with Mike Zavala and his father, Stevie Gee, at the Bay City Christian Boxing Club.
"Both of these guys have the potential to be world champions," said Watkins. "Not just contenders, they both have the potential to become world champions. Is it difficult, does it take time? It's really difficult. I know what it takes to make it happen and I see it in these two guys here and their coaches.
Longoria and Gee won't have to wait long for their first professional fight, which will be part of the "Keep Your Guard Up" card scheduled for Thursday night at the Pasadena Convention Center.
Gee, a junior at Bay City High School, will fight at 130 pounds.
"I'm ready. I'm strong for my age. I'm physically, mentally and spiritually ready for this fight," said Gee, who started fighting at age 9 and goes by the nickname "Black Assassin." "I feel good and confident in this fight because I have trained so well and my team is supporting me."
Longoria, who works full time at Formosa Plastics, will fight at 115 pounds.
"I've been preparing for this moment my whole life," said Longoria, who started fighting at the age of 8 and goes by the nickname "El Rayo" (Rayo means lightning in Spanish). "It's something we've been thinking about for a few years now. We've been training for a while. I am ready and I have been ready. I sacrificed a lot of time to get here.
Watkins envisions Gee and Longoria fighting six to eight times a year to create a resume.
"These two guys, they're so talented it's unreal," Watkins said. "In terms of speed, Kanye has a lot of speed and finesse and is a great boxer. Tim has speed and power. I think you're going to see a lot of knockouts with him.
Watkins is eager to watch the fighters in action and, like him, to enjoy the fruits of their labor.
"I love people," Watkins said. "I had a father who opened a lot of doors for me and a lot of kids don't. I just want to give back.