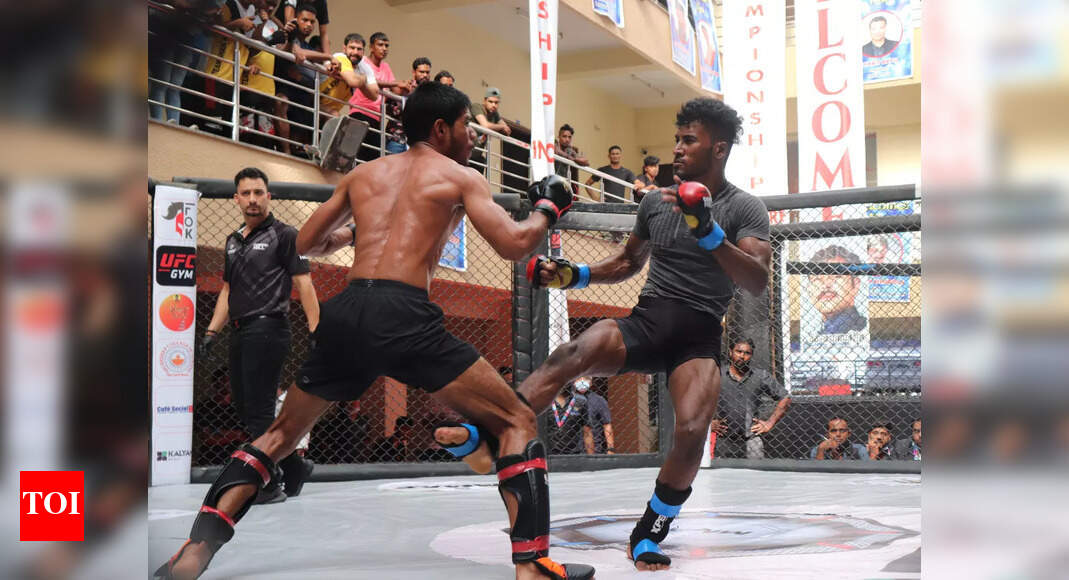 Chennai-based MMA athletes give a boost
Ajit Sigamani, a popular name in the mixed martial arts (MMA) circle in Chennai, shared a social media post a few days ago, writing about his journey from when he introduced Swedish progressive gymnastics and MMA. in South India in 2009 until his team's trip over the years.
Recalling the trip, Ajit said, "I started my academy on my 600 square foot terrace in Ramapuram in 2009. My only investment was a canvas bag and mittens which cost 3,000 rupees. It took a decade of shedding blood, sweat and tears, traveling the world, getting certified, learning from the best, and competing against the best to create an ecosystem for training aspiring martial artists, athletes. and coaches. Now, after the Indian Open MMA Championship in Indore recently, six of his wards have qualified for the world championships to be held in Kazakhstan in November.
One of them, Ganesh Raj S, who won gold in the men's bantamweight category, said he was happy to have taken another step towards realizing his dream. "After the last fight at the Indian Open, I closed my eyes and soaked up the moment. I was very happy that all of my hard work paid off. My goal is to become a world champion and I have worked in this direction. I am happy to have come closer to qualifying for the World Championships.

Ask him how he plans to train for the big event and the 22-year-old responds: "Our team's focus has always been the World Championships. Thus, training was not reserved for nationals only. My coach Ajit Sigamani trained us in the science aspects and instilled in us the attitude of never giving up, which brought out the skills latent in me. Now I look forward to the camp in Russia, which we will be heading to shortly.
21-year-old Vridhi Singhvi is one of two fighters from Tamil Nadu to win a gold medal at the event. She says, "I knew I was going to be the national champion. Losing was not an option for me. But I'm excited about the championship because the level of competition there would be completely different. Testing my skills while representing my country is all I can ask for ", adding:" I plan to go to a camp in Mumbai to prepare for the Worlds. And my game plan is to have a solid and perfect foundation. My trainer Ajit always says it's the simple things with millions of reps that win the world titles. And I am his words.
Speaking about how these athletes from Tamil Nadu have made their presence felt in an important way, MMA India President Sharif Mohammed Bapu said: "At the recently concluded Indian Open in Indore we had the participation from nearly 22 states and three Union Territories. And I think Tamil Nadu came out with the maximum number of gold medals and things. The women of TN are doing particularly well. Two girls from Tamil Nadu – Vridhi and Afshan – were truly impressive. They have won two consecutive national medals. Even the boys in the state have been pretty good. One of the young boys from TN fought against Mahboob Khah from Telangana, who is world champion, and he really gave the latter a tough fight even though he couldn't win the fight. I am sure he will represent the country at the juniors at the World Championships. So Tamil Nadu is doing a great job.
According to Ajit, interest in MMA has also increased in Chennai. "Although there has been a drop in attendance due to the pandemic, all of my academies are now full. Unlike when I started, I also have a surprisingly good number of female students attending my classes. MMA awareness is there today, and some people even understand the nuances of the sport. Now Chennai has the best MMA team in India.