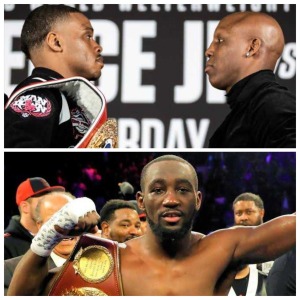 ERROL SPENCE AND YORDENIS UGAS WANT TO UNIFY FOUR WELTER WEIGHT BELTS BY FIGHTING TERENCE CRAWFORD NEXT
MASAM SPORTS 51: ERROL SPENCE AND YORDENIS UGAS WANT TO UNIFY FOUR WELTER WEIGHT BELTS BY FIGHTING TERENCE CRAWFORD NEXT
By Maloney L. Samaco
PhilBoxing.com
Mon 07 Mar 2022
WBC and IBF welterweight champion Errol Spence Jr. will face WBA welterweight champion Yordenis Ugas on April 16. Spence is the favorite to emerge victorious, but Ugas is once again ready to prove the bettors wrong.
He claimed he had proven most fans wrong by overwhelmingly beating retired Manny Pacquiao on August 21.
Ugas is ready to challenge the sports betting books again and knock out Spence in their unification game at AT&T Stadium in Arlington, Texas.
The two welterweight champions recently traveled to the 80,000 capacity stadium to officially kick off their three-belt championship fight, promoted by Premier Boxing Champions and to be shown on pay-per-view by Showtime.
"I've been fighting since I was six years old and overcame every challenge," Ugas said, as quoted by Insider. "I was ready for Pacquiao, and I'm going to be ready for Spence."
Ugas admitted he wanted the Spence fight because he isn't shy about taking on "the greatest challenges" and "fighting the best."
"I'm here and I'm ready to prove that everything I've done so far was not a fluke at all," Ugas said as quoted by Boxing Scene.
"You know how long I've been calling this fight and how long have I wanted this fight? Four years. I've wanted this for so long. Spence is one of the best in the world, and I'm so happy that I can face it as I have wanted for four years."
Three of the four major titles, the WBA, WBC and IBF in the welterweight division will be on the line in the Spence and Ugas showdown while the WBO belt will still be held by Terence Crawford.
Spence and Ugas are united in pushing for the creation of an undisputed welterweight champion. Spence named it "strap season" and said he would do his best to own all the title belts.
"At the end of the day, I want to be the undisputed welterweight champion of the world," Spence said. "It's another step towards that goal. I've been the shooter. I'm the big fish at 147."
Spence said Ugas would be a tough opponent. "He's a tough competitor who comes to fight. I thought he beat Shawn Porter in 2019 and then he beat Pacquiao with an arm injury."
"He's a great warrior, but I think it's time for me to show the world that I'm here to win another belt," Spence added.
Ugas called it a fight between two of the best welterweights in the world and the winner will be the "king of the division" and will be the one to decide from now on.
Asked why Spence didn't opt ​​for a tune-up fight before facing Ugas, he said he rejected the idea. "I just don't believe in the tune-up thing. I feel like it's on me, and fighting someone like Ugas' caliber is going to push me to the next level, is going to keep me at train hard."
"So to fight someone of the caliber of Ugas, I know I have to be 100% prepared, I have to push my body beyond its limit to beat a guy like Ugas."
"We'll see," Spence said when asked about the Crawford fight. "As I said, I have to pass [Ugas] first. So once I get past it, we'll definitely see.
Crawford has been the WBO welterweight champion for almost four years, a year less than Spence was the holder of the IBF title he won by knocking out Kell Brook in May 2017.
He has long wanted to fight Spence, but as a free agent he may have to be with early boxing champions Al Haymon to sign Spence to a fight contract.
Crawford currently has no fights scheduled. His last outing was against former IBF and WBC welterweight champion Shawn Porter whom he stopped in the 10th round on November 20 at the Michelob ULTRA Arena at the Mandalay Bay Resort and Casino in Las Vegas, Nevada.
Click here to see a list of other articles written by Maloney L. Samaco.
---
Recent PhilBoxing.com internal articles:
MASAM SPORTS 51: ERROL SPENCE AND YORDENIS UGAS WANT TO UNIFY FOUR WELTER WEIGHT BELTS BY FIGHTING TERENCE CRAWFORD NEXT
By Maloney L. Samaco, , Mon, 07 Mar 2022
Heed Nature or Rely on the Magic of Modern Science in Boxing (Last Part)
By Teodoro Medina Reynoso, , Sun, 06 March 2022
SALA SA INIT …: Pataasan ng ihi ang umiiral in sigalot with pagitan ni perche sauteur EJ Obiena and PATAFA
By Eddie Alinea, , Sun, 06 Mar 2022
ROMBLON VS MARINDUQUE TEAM FIGHT
By Marlon Bernardino, , Sun, 06 March 2022
MASAM SPORTS 50: JEO SANTISIMA AND JOE NOYNAY SUFFER LOSSES AND THEIR WORLD TITLE BIDS ARE DROP
By Maloney L. Samaco, , Sun, 06 Mar 2022
Laguna Heroes defeated Olongapo and Manila in the PCAP Online Chess Tournament
By Marlon Bernardino, , Sun, 06 March 2022
The Suganob brothers in action on March 7
By Lito delos Reyes, , Sun, 06 Mar 2022
The Ligas will defend their title on March 12
By Lito delos Reyes, , Sat, 05 Mar 2022
MASAM SPORTS 49: FOUR UKRAINIAN WORLD CHAMPIONS AT WAR WITH RUSSIA
By Maloney L. Samaco, , Sat, 05 Mar 2022
There's no place like home: Jose Ramirez defeats Jose Pedraza in 140-pound showdown
Sat, 05 March 2022
Gonzalez stops Santino in 9; Captures WBO Int'l featherweight belt
By Carlos Costa, , Sat, 05 March 2022
Heed Nature or Rely on the Magic of Modern Science in Boxing – Part 4
By Teodoro Medina Reynoso, , Sat, 05 Mar 2022
WEIGHTS, IMAGES AND RUNNING ORDER FOR CHOCOLATITO VS. MARTINEZ
Sat, 05 March 2022
RICKY "EL CASTIGO" MEDINA TOPS MARCH 12 IN SAN ANTONIO
Sat, 05 March 2022
Shapiro Sports and Entertainment signs undefeated super featherweight Ramiro Cesena
Sat, 05 March 2022
Ukrainian knockout artist Serhii Bohachuk returns home to fight with fellow countrymen
Sat, 05 March 2022
Split-T Management Fab Four in action this weekend
Sat, 05 March 2022
Ryan Adams steps in to take on Khainell Wheeler in the Main Event next Friday, March 11 at the Wind Creek Event Center in Bethlehem, Pennsylvania
Sat, 05 March 2022
Jeo Santisima will face Joet Gonzalez on March 4 in Fresno
By Lito delos Reyes, , Fri, 04 Mar 2022
Carl Fail, Elliot Whale and Dean Richardson return April 15 MTK Fight Night
Fri, 04 March 2022
HODDER & STOUGHTON TO RELEASE AUTOBIOGRAPHY OF LEGENDARY SPORTS PROMOTER BARRY HEARN
Fri, 04 March 2022
Laguna blasts Cebu in PCAP online chess tournament
By Marlon Bernardino, , Fri, 04 Mar 2022
Weigh-in results: Jose Ramirez vs. Jose Pedraza
Fri, 04 March 2022
CHOCOLATE VS. MARTINEZ – QUOTES FROM THE FINAL PRESS CONFERENCE
Fri, 04 March 2022
Wilfredo Gomez Update
By Gabriel F. Cordero, , Fri, 04 Mar 2022