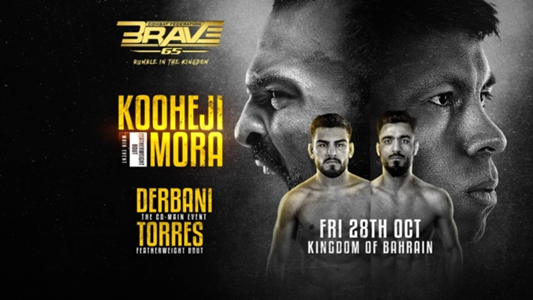 Hamza Kooheji defeats Eduardo Mora, Jose Torres wins in bantamweight return
The culmination of Brave CF's epic Kombat Kingdom series couldn't have gone on a higher note. Under the bright lights of the Khalifa Sports City Arena, there were hard-fought knockouts, TKOs and decisions as 22 warriors showed their appreciation for being tasked with battling on the Brave CF 65: Rumble in card. the Kingdom during the third and final leg of the nine-day mixed martial arts festival taking place in the Kingdom of Bahrain. The main event saw bantamweight number three and former title contender Hamza Kooheji of Bahrain deliver a masterful performance as he defeated Colombian Eduardo Mora in their featherweight bout by unanimous decision.
Aside from Mora's back kick that nearly gassed his opponent, it was all about Bahrain's power and skill throughout the three-round fight as Kooheji released the KHK Team Bahrain MMA tutorial, taking advantage of his bodyweight to take down his opponent and go to work with his impeccable wrestling and grappling. Throughout the fight, Kooheji stuck to Mora's back like white on rice. Mora did well to keep busy and make Kooheji work hard, however, he failed to capitalize on breakouts or attacks as his opponent used every move to secure a takedown and initiate a ground and a pound.
As the fight progressed, chants of "let's go Hamza" echoed around the Khalifa Sports City Arena as the Bahraini star redeemed himself after failing to beat the current Brave CF bantamweight champion, Brad Katona, in his last title fight. In round three, Mora gave one last push in hopes of shocking the world when he dropped that back kick that hurt Kooheji, but the Bahraini athlete gritted his teeth, clutching his arms around his opponent and taking his back looking for a rear-naked choke before the buzzer goes off.
"I have so much respect for Mora, he gave me a good kick which almost gassed me. So I did what I had to do and went to work. To my brothers KHK Team Bahrain, you are my second family. All of Bahrain is my family, I love you all. Thank you for coming. I will see the bantamweight guys soon," said winner Kooheji who guaranteed a return to the 135 division. books.
In the co-main event, American Jose "Shorty" Torres raised his hand as Brave CF's potential new bantamweight contender after dominating Jordan's Izzedine Al-Derbani. After an electric start from Al-Derbani who threw leg kicks and leather with bad intentions, Torres bided his time waiting for the perfect moment.
At one point the strong grappling-Torres went for a takedown which was avoided by Al-Derbani who framed beautifully which seemed to set the tone for an interesting fight considering the American's grappling prowess against the stand -up sharp from Al -Derbani. However, the relentless Torres backed up his wrestling pedigree and eventually nullified Al-Derbani's reach before taking him to the 'Shorty' airway scoring an easy takedown on the night that would write the script for the rest of the season. fight. Torres forced Al-Derbani into his world and educated his opponent with a wrestling clinic.
As the fight continued, former featherweight Al-Derbani as Torres picked up the pace showing devastating ground control as he methodically outclassed his opponent for three rounds to secure a victory by unanimous decision and put the bantamweight division on notice before expressing their desire to fight. the champion, Canadian Brad Katona.
"It's definitely a great opportunity to fight at bantamweight. I feel amazing and happy to be back after 18 months. I love this sport. I would love to fight Brad Katona, I want to fight him one day, but now I have to put my right foot at 135 pounds," Torres said.
In the heavyweight fight of the night, the big boys did not disappoint as Bahrain's Shamil Gaziev produced the first and only knockout of the night beating Lithuanian Pavel Dailidko. After implementing a heavy game plan in the first round, Gaziev then showcased his smart standing defense with some nice heading moves and slides before showing off a false cross which was then followed by a monster left hook which sent Dailidko to the Web Brave CF.
Brave CF 65 Complete Results
Main board
Featherweight: Hamza Kooheji def. Eduardo Mora via unanimous decision (3x 30-27)
Bantamweight: Jose Torres def. Izzedine Al-Derbani by unanimous decision (2x 30-27, 29-28)
Super-welterweight: Ahmed Labban def. Carl Booth by unanimous decision (3x 30-27)
Light Heavyweight: Magomed Gadzhiyasulov def. Mohamed Said Maalem by unanimous decision (2x 30-27, 29-28)
Heavyweight: Shamil Gaziev def. Pavel Dailidko via KO (punches) – Round 2
Variable weight 59 kg: Issa Salem def. Hussain Ayyad by split decision (29-28, 28-29, 29-28)
Preliminary map
Flyweight: Maysara Mohamed and Frieh Alharahasheh are ruled a majority draw (28-28, Frieh 29-27, 28-28)
Variable weight 77 kg: Kevin Ruart def. Omar El Dafrawy by unanimous decision (30-27, 30-27, 30-26)
Bantamweight: Abdulla Al-Yaqoob def. Fouad Shami via split decision (30-27, 28-29, 30-27)
Amateur Flyweight: Mohammed Zuhair def. Ganesh Raj by unanimous decision (30-27, 2x 29-28)
Amateur catch weight 67 kg: Mohammed Salah Mahdi beats. Ahmed Zayed via TKO – Round 3