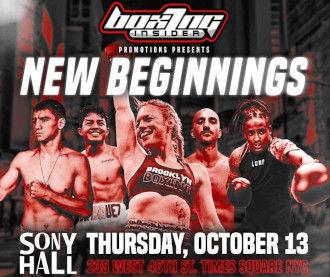 HEATHER HARDY RETURNS TO THE BOXING RING TO TOP AN OCTOBER 13 CARD AT SONY HALL IN NEW YORK
HEATHER HARDY RETURNS TO THE BOXING RING TO TOP AN OCTOBER 13 CARD AT SONY HALL IN NEW YORK
PhilBoxing.com
Fri Sep 23, 2022
Former world champion to face Calista Silgado's featherweight match
New York, September 21, 2022. — Heather "The Heat" Hardy vs. Calista Silgado will be the main event of a six-fight stacked card with local boxers in her highly anticipated return to the ring on Thursday, October 13. The card, titled "New Beginnings," will take place at Sony Hall in the heart of Times Square in midtown Manhattan.
Hardy-Silgado will be a six-round lightweight bout. In the co-feature, Ukrainian-born Ivan Golub currently resides in Brooklyn. The rest of the card includes Andy Dominguez from the Bronx, Lebanese Nadim Salloum now residing in Brooklyn, Orville Crooks who hails from the Bedford-Stuyvesant area of ​​Brooklyn and Armenian Petros Ananyan who resides in Los Angeles.
The card is promoted by Boxing Insider, which is making its professional boxing promotional debut.
Tickets, priced at $85 for general admission (excluding applicable service fees), are available on Ticketmaster click here. General admission tables and VIP tables are also available. Doors open at 6 p.m. and the first bell is at 7:30 p.m.
Heather Hardy (22-2, 4 KO), born and raised in Brooklyn and former World Boxing Organization featherweight champion, will bring "The Heat" back after 17 months out of action as she mounts another run at a World Championship. Hardy is currently ranked No. 12 in the lightweight division by the Women's International Boxing Association. Heather graduated from John Jay College in Brooklyn, started indoor boxing at age twenty-four and made her professional debut in 2014 at age twenty-eight. In 2013 she won the vacant UBF International super bantamweight title and in 2014 the WBC International super bantamweight title, which she successfully defended five times. On October 27, 2018, Heather became world champion, winning the WBO featherweight title with a unanimous decision victory over Shelly Vincent at Madison Square Garden. Heather lost the title the following September to Amanda Serrano in a clash of women's boxing stars.
"I am happy to work with Boxing Insider promotions. It's great to start now so when it comes time to retire from the fight it's a way to keep me involved in the sport," said Hardy who not only is the headliner of the event, but also has an important role behind the scenes. "It gave me the opportunity to use all the knowledge I've gained over the years as a fighter to help create this platform that will elevate the next generation of New York fighters."
Calista Silgado (20-15, 15 KOs) of Santiago de Tolu, Colombia, made his professional debut in 2012 and is an eight-time world title challenger. She also fought in a bare-knuckle fight in October 2021.
In a co-feature, Ivan Golub, a native of Ukraine who currently resides in Brooklyn, will put his USBA welterweight title on the line against an opponent yet to be determined. Golub (20-1, 15 KOs), known as "The Volk", is ranked No. 7 in the world by the International Boxing Federation.
Sony Hall fans will also get a chance to see Bronx's Andy Dominguez (7-0, 5 KOs), a dynamic flyweight who currently holds the World Boxing Association's Fedecentro title, which he puts on the line. At 18 , he is already 14th in the world in the WBA rankings.
The unpredictable Nadim Salloum (8-1, 3 KO), Lebanon's first born and bred professional fighter, will be seen in a six-round light heavyweight bout. Salloum, who now lives in Brooklyn, has a large following among his New York-area compatriots.
Another light heavyweight on the card is Orville Crooks (3-0, 2 KOs), one of the best amateurs New York has produced in recent years. Crooks, a native of the Bedford-Stuyvesant area of ​​Brooklyn, is both an American amateur champion and a national Golden Gloves champion. For him, the sky really is the limit.
In an eight-round super lightweight bout, former World Boxing Association Continental Americas super lightweight champion Petros Ananyan (16-3-2, 7 KOs) was born and raised in Armenia and now resides in Los Angeles. Petros will face Brazilian Paulo Cesar Galdino (12-5, 8 KOs)
"I'm humbled and honored," Boxing Insider CEO Larry Goldberg said. "I'm going to live every boxing fan's dream of promoting a show in New York. We're working hard and we're going to make it happen."
"It's been a pleasure to work with Larry on this project, his first venture into promotion," said Hall of Fame inductee Lou DiBella of DiBella Entertainment, which owns the promotional rights to Hardy and Golub. "And especially since it's in a historic place like Sony Hall. It's going to be a great night."
Sony Hall is located at 235 W 46th Street in Manhattan. Stay in touch by visiting www.boxinginsider.com for more fight updates and streaming information.
---
Recent PhilBoxing.com internal articles:
FINAL PRESS CONFERENCE QUOTES FOR HUGHES VS. GALAHAD
Fri, Sep 23, 2022
MATCHROOM AND WASSERMAN STARS MAKE EUBANK JR. VERSUS. BENN UNDERCARD
Fri, Sep 23, 2022
NBA Daily: 2022-23 Season Preview #8 – Los Angeles Lakers
By Reylan Loberternos, , Fri, 23 Sep 2022
HEATHER HARDY RETURNS TO THE BOXING RING TO TOP AN OCTOBER 13 CARD AT SONY HALL IN NEW YORK
Fri, Sep 23, 2022
Popular bantamweight Christian Carto headlines against Hector Andres Sosa on Saturday, October 1 at the 2300 Arena in Philadelphia
Fri, Sep 23, 2022
National Master (NM) Christian Gian Karlo Tade-Arca of Dasmarinas City Wins Two National Youth and School Chess Championships
By Marlon Bernardino, , Fri, 23 Sep 2022
Relive Pac-Man's Greatest Hits
Thu, Sep 22, 2022
St. John, Agro in Knockout Match
By Lito delos Reyes, , Thu, 22 Sep 2022
New chess prodigy in town
By Marlon Bernardino, , Thu, 22 Sep 2022
Fefilova defeats Fisher as Seybert's Michigan Open begins
Thu, Sep 22, 2022
NBA Daily: 2022-23 Season Preview #7 – Sacramento Kings
By Reylan Loberternos, , Thu, 22 Sep 2022
Usman Wazeer ready for war for WBO 147LBS world youth title in Thailand
By Carlos Costa, , Thu, Sep 22, 2022
Fight week in Cancun! Quotes from Marquez Promotions & ProBox Presser
Thu, Sep 22, 2022
Press conference quotes: Shakur Stevenson ready for Brick City homecoming
Thu, Sep 22, 2022
TAYLOR DEFENDS THE UNDISPUTED LIGHTWEIGHT TITLE AGAINST CARABAJAL AT WEMBLEY'S OVO ARENA ON OCTOBER 29
Thu, Sep 22, 2022
Quotes from Richard Brewart Jr's training camp.
Thu, Sep 22, 2022
NM Velarde tops Open Grand Final of Under-17 National Youth and School Chess Championships
By Marlon Bernardino, , Thu, 22 Sep 2022
NM Reyes wins Grand Open National Youth and Under-11 School Chess Championships
By Marlon Bernardino, , Thu, 22 Sep 2022
DDNBL invites collegiate teams from Davao City
By Lito delos Reyes, , Thu, 22 Sep 2022
The Kamatyas Chess Tournament is launched
By Marlon Bernardino, , Wed, 21 Sep 2022
Newark Bound: Shakur Stevenson and Robson Conceição land in Brick City
Wed, 21 Sep 2022
Joeshon James Training Camp Quotes
Wed, 21 Sep 2022
NBA Daily: 2022-23 Season Preview #6 – Portland Trail Blazers
By Reylan Loberternos, , Wed, 21 Sep 2022
Split-T Management's Jessica Camara and LeAnna Cruz Score Wins This Weekend
Wed, 21 Sep 2022
Chester Neil Reyes Wins Araneta City Open Rapid Chess Title
By Marlon Bernardino, , Wed, 21 Sep 2022