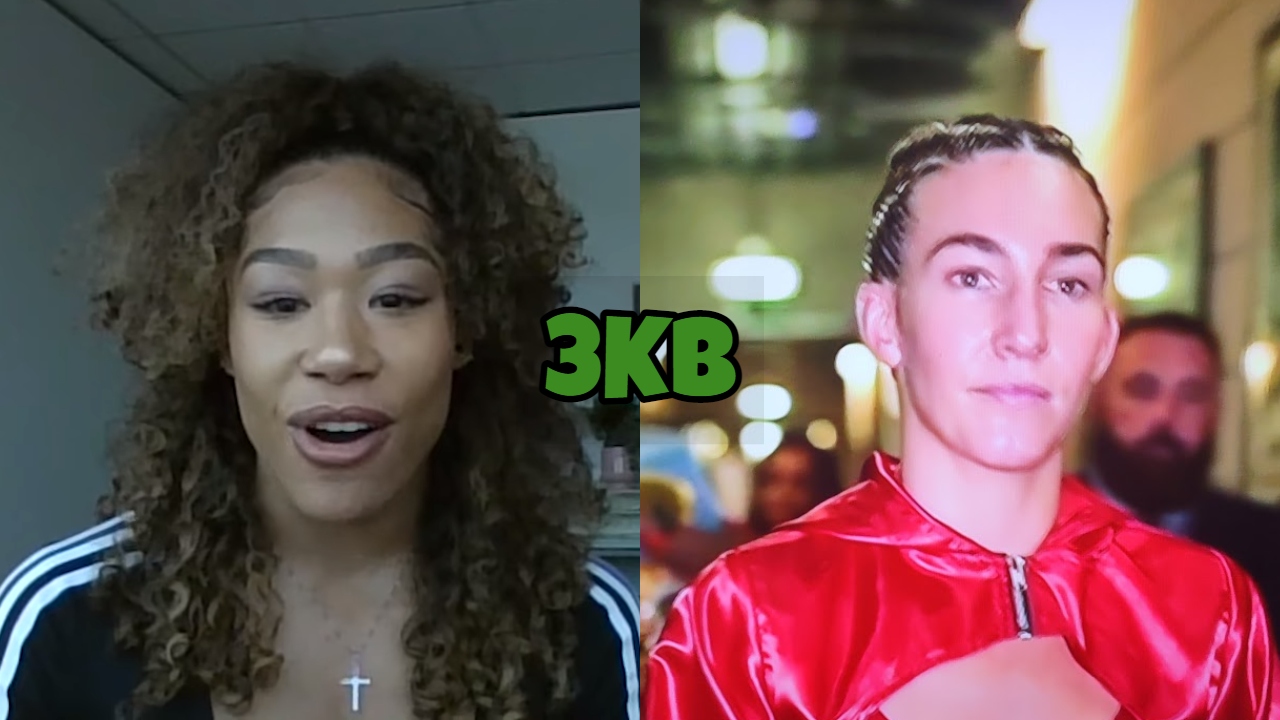 "If I fight Mayer again, let's show something else"
Alycia Baumgardner is not closed to the rematch of Mikaela Mayer!
---
Has Alycia "The Bomb" Baumgardner (13-1, 7 KOs) changed her mind about a rematch with her nemesis, Mikaela Mayer (17-1, 5 KOs)? Baumgardner is living her best life and basking in the glow after her victory over Mayer on Oct. 15 to become unified junior lightweight champion.
After that fight, Baumgardner was dogmatic about not fighting Mayer. Instead, she's been adamant about moving on and wants to face WBA champion Hyun-Mi Choi for undisputed honors at 130.
LEAVE THE WINDOW OPEN?
But during an exclusive interview on The Last Stand Podcast, host Brian Custer asked Baumgardner if she considered fighting Mayer again. The 27-year-old's response yielded what some might consider a surprising answer.
"I do […] it was fun for me. It was fun fighting that girl and knowing that if I fight her again it's not going to be pretty because I know what I can do for fun. But let's add a little more seasoning on top to show something else.
Both ladies entered the contest as reigning world champions. Baumgardner was the WBC champion while Mayer was the unified (IBF/WBO) champion. In the opening laps, Baumgardner got off to a great start. The middle rounds saw Mayer find his groove and get back into the contest. Baumgardner bit and rallied in the championship rounds, and the judges scored the fight in his favor with a split decision.
NO QUESTIONS IN HIS MIND
Mayer would like the opportunity to bring him back. Almost a month after the fight, there is still a debate among the fans as to who deserved the verdict. You have a section of fans and pundits who believe Mayer came on strong and did enough to win. The Bomb has this message for those who think she didn't do enough to win:
"Go back and watch the fight. Understand the sport; understand what you are looking at, first. Second, not everyone will like me, not everyone will agree with me. But what they know, and what they should know, is that I won that night. I will be unchallenged at 130 and I can't wait for that to happen.
KEEP YOUR FINGERS CROSSED
It is well known throughout the boxing community that Baumgardner and Mayer do not like each other. However, Baumgardner revealed to Custer that she enjoyed the rivalry and thought it was a great fight. Despite the animosity, you can tell there is genuine respect.
Ultimately, it looks like The Bomb will make another attempt with Mayer, but on his terms. First and foremost is Choi. Then, if that makes sense, another fight with Mayer. So for those who claim Baumgardner – Mayer II at some point, hope is eternal.
By: Michael Wilson Jr.