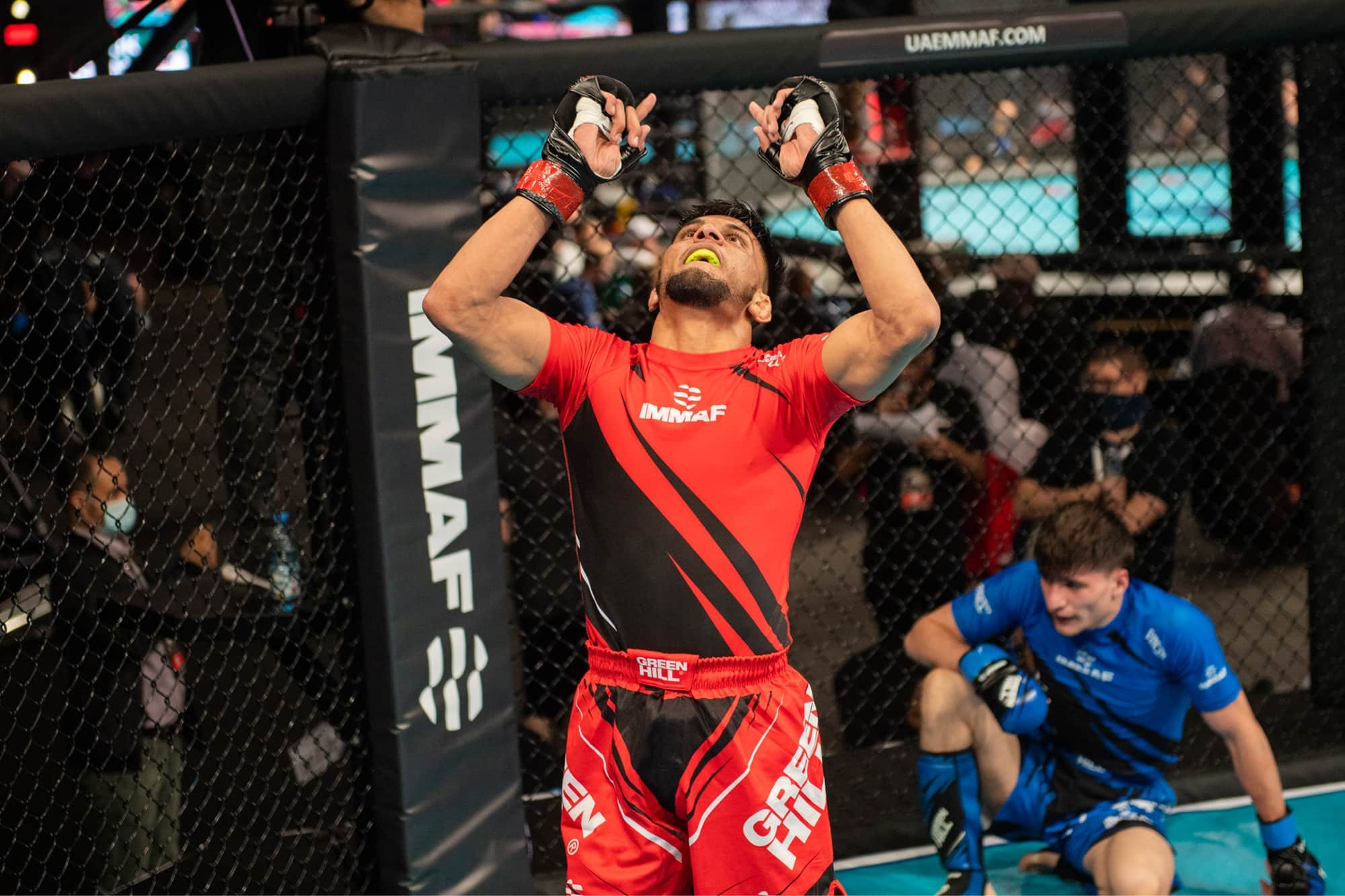 Ismail's bronze story for Pakistan
CARACHI:

"Ismail Khan made us proud when he became the first Pakistani to medal at the IMMAF (International Mixed Martial Arts Federation) World Championships, and now there are more kids who want to go higher now" , said Nasir, a very proud coach and mentor. Khan Yousafzai explains what the 22-year-old's title means for Pakistan.
Ismail's journey and achievement illustrates the immense talent that Pakistan possesses and how a small club with small steps and a love of community can deliver outstanding results on the international stage.
Ismail won the bronze medal at the IMMAF World Championships in Abu Dhabi after an impressive run on January 26. He remained a formidable opponent for the top fighters, beating Greek Giannis Balampanidis in the first round, defeating Tajikistan's Amir Hamza Islamov in the second fight, then he caused a huge upset by beating Italian Fidel Gramiccia by a unanimous decision.
He only fell short in the next fight against Russian Shakhban Gapizov, which forced Ismail to settle for the bronze medal in the bantamweight event.
"He only lost that fight against Shakhban because of a head injury, which is unfortunate," Yousafzai told The Express Tribune. "It was really an accident, because we were really expecting a gold medal from Ismail, but still a huge achievement because nobody got the medal in this event before. IMMAF is also affiliated in the Ultimate Fighting Championship (UFC) and that certainly paves the way for our fighters, Ismail also has the potential to win a gold medal.
Yousafzai added that the officials and his club were also expecting an India v Pakistan match with India's Ganesh Raj being in the tournament, however, the latter lost and the mouth-watering match did not happen.
Tracing Ismail's Roots
For a boy from Rawalpindi who works at a shop counter, Yousafzai says winning and campaigning at the IMMAF World Championships speaks volumes about the talent and dedication of Ismail, who was chosen to be part of Pak Mixed The Martial Arts Federation team.
Yousafzai also explains that Ismail is financially better off than other fighters in the region.
"It was a huge achievement because there is a criterion to be selected for the championship; they pick the best fighters, 30 of them in each of the weight classes from around the world, and this time around Ismail made the cut," Yousafzai said.
Pak MMAF sent a contingent of athletes for the event which also included a female fighter, while Ismail's performance marked PAK MMAF's debut in the event.
Yousafzai said Ismail has been training diligently since November with him and another instructor at KAK Academy, located near Nasirabad market in Rawalpindi.
"We found out about this event in November and then made sure we didn't skimp on anything training-wise," said Yousafzai, 31, who started KAK Fight Club in memory of his friend and MMA teacher. Kashif Ali. Khan.
He said the cold winter and conditions in Rawalpindi were enough to push his fighter to the limit.
"We are not a hi-fi academy. We have mats and in winter it is very cold. The conditions are tough too. The environment is there to push the athletes, but to be honest we don't have a lot of good facilities. We trained hard every day, in fact the event was supposed to take place earlier in a different venue. It was because of Covid-19 restrictions that the tournament was later held in Abu Dhabi," Yousafzai said.
KAK Fight Club Rawalpinidi started when Yousafzai lost his mentor and friend in a car accident just a year after he started training for MMA.
The love for his friend and the attention given to young people in the region constitute the heart of the KAK Academy and mainly fuel Yousafzai's desire to make a name for himself in the world of MMA.
"We are really a small club, but we also have other boys besides Ismail. We also have our instructor Muhammad Salman who works with the boys. We have a very tight-knit community. The fighters come from around and we manage this club. We even organize fights with other clubs in the city, like our rivals Fight Fortress," Yousafzai explained.
Humble community of fighters
Crucial is Yousafzai's role as a fighter and also a software engineer who graduated from the Islamic University of Islamabad, where he also met his mentor. However, he believes that the fighters in his community deserve better and at least some attention from the government. His club currently has 20 to 25 fighters.
"We have our children, our fighters who work as loaders. Loading goods into the fruit market for just Rs.1,000 a day is how our fighters manage to make ends meet," Yousafzai said.
He explained that despite the financial difficulties, the community helps the boys to carry on and fight and encourages them to play sports.
"I can tell you about an incident. Abdul Mannan was only seven or eight years old when he joined us and during training he broke his shoulder bone and we were scared. We took him to the hospital, but in the evening we took him home. We told his older brother what happened and to our surprise he said that injuries are part of the sport. We all breathed a sigh of relief as it was a generous gesture from the family," Yousafzai said. Abdul Mannan is currently thriving as a fighter at a young age of 16.
But the government needs to pay attention to the generation of hard-working boys who are dedicated to making their mark in the world through MMA.
One such example is 16-year-old Mohib Khan.
The youngster doesn't just support his family as his older brother suffers from addiction, he has to work double duty to make ends meet and he always finds the motivation and keeps the fire burning for the sport.
"Mohib's day begins at midnight. He goes to the market and begins his work of loading and unloading fruit. He finished at eight o'clock in the evening and returned home around 10 p.m., earning only 1,000 rupees for the night's work, and slept. He then comes to the club at three o'clock in the afternoon and trains with us. It's his day, but we know he deserves more than that," Yousafzai said, understanding that there are a lot of expectations from the academy and that the fighters are serious, hardworking youngsters who can bring laurels at home, and Ismail's feat at the IMMAF World Championships are just the beginning.
More than cricket
For the sake of young people and MMA fighters, the government and sponsors will have to take their eyes off cricket a bit.
"Cricket is not everything. If the government can support other sports, if it can support us and these young people, then it can do a lot for the country. That is my request, the government should also look at the talent here," Yousafzai concluded, noting that along with other things, Ismail's winning momentum will continue as the IMMAF World Championship bronze medalist takes on Egypt's Muhammad Abo Ali in the final. Legacy Fight Series on March 6 at Moin Khan Academy in Karachi.