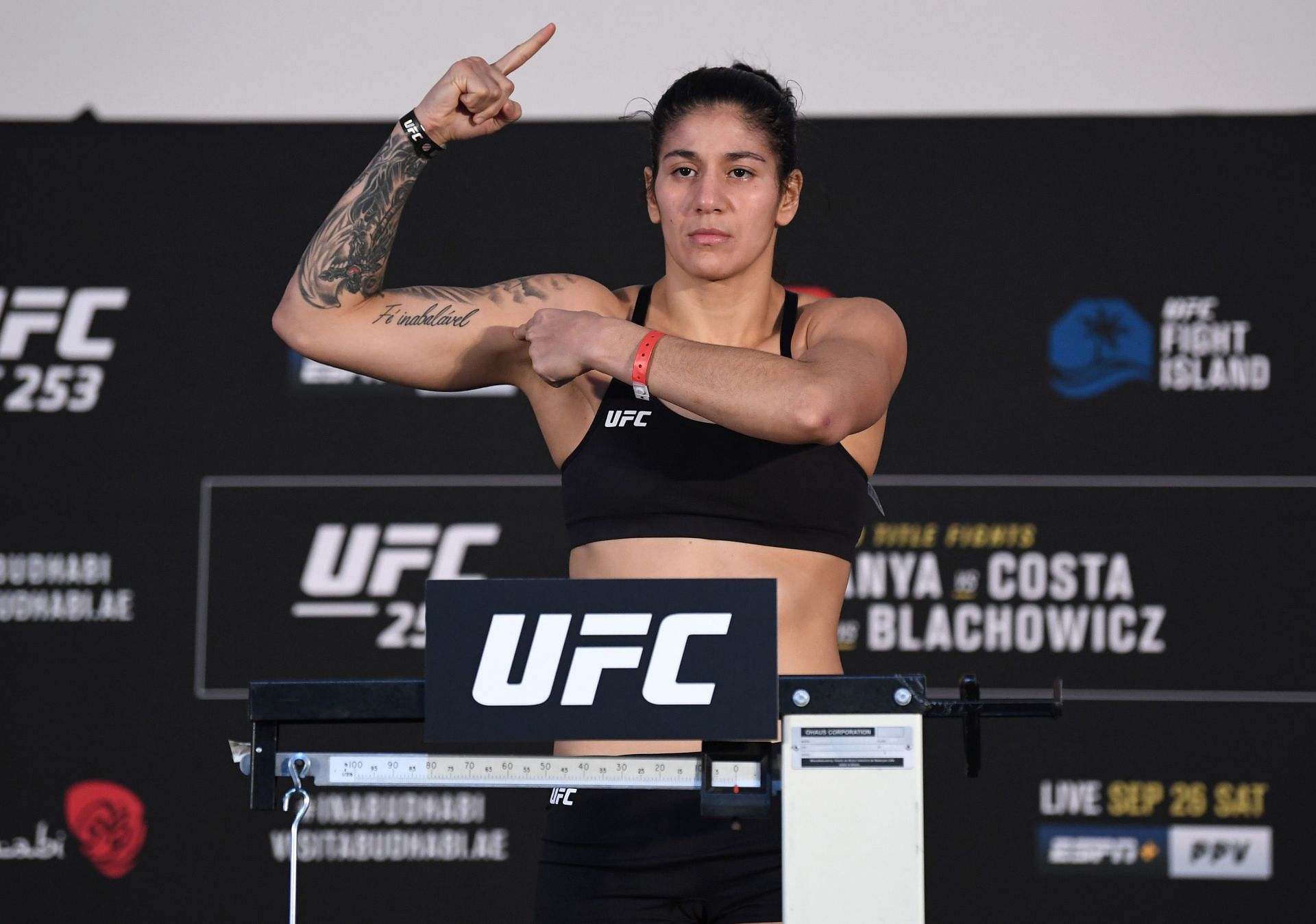 Ketlen Vieira thinks she should fight Amanda Nunes next
Ketlen Vieira is currently the No. 2 ranked female bantamweight in the UFC. She is on a two-fight winning streak after defeating former bantamweight champions Miesha Tate and Holly Holm. She's also one of only two fighters currently in the top five who haven't had a chance to face "The Lioness."
With no one in the rankings above her but Julianna Pena, Vieira believes she should be Nunes' opponent for her first title defense after reclaiming the bantamweight belt in dominant fashion.
Vieira took to Twitter to congratulate Amanda Nunes after the latter's victory at UFC 277:
While many thought Ketlen Vieira's last victory over Holm was a steal, back-to-back wins over two of the only five women to ever hold the bantamweight belt puts her in contention for a title fight. She showed she was capable of going five rounds, as her previous two fights were main events that went the distance.
For Nunes, this match could make sense, as it would give him the opportunity to defend his title in Brazil [her home country] for the first time since 2018.
---
Should Ketlen Vieira be Amanda Nunes' next opponent?
While Vieira is ready to fight Nunes in Brazil, other contenders will likely be ready to do the same.
Unfortunately for Vieira, there are three names other than his own that make more sense, financially, for the UFC to place against Nunes. The most obvious match would be a trilogy against Julianna Pena. Pena is the only fighter to defeat the two-time champion since 2014. Their first fight was legendary and even after a dominating Nunes victory at UFC 277, a trilogy fight looks lucrative.
Another option that makes sense for Nunes would be a trilogy fight against current women's flyweight champion Valentina Shevchenko. Shevchenko is currently number one in the pound-for-pound women's rankings. It could be the biggest women's MMA fight the sport has ever seen. The winner will likely cement her name as the GOAT of women's MMA.
Additionally, a fight with Shevchenko gives Amanda the opportunity to regain the No. 1 pound-for-pound spot. For Shevchenko, it offers her a chance for redemption and a chance to earn double champion status.
The last fighter that might make sense would be a featherweight matchup with Cris Cyborg. Cyborg was widely considered the greatest female fighter in MMA before Nunes knocked her out and won the title for herself.
Cyborg openly called for a rematch with Nunes after UFC 277:
Cyborg left the UFC on bad terms with President Dana White, but getting her back so she can fight Amanda Nunes again makes a lot of sense financially.
Cyborg has previously hinted that his contract with Bellator could expire this summer, so it shouldn't be a cross-promotion event, which the UFC has adamantly opposed in the past.
Although Ketlen Vieira deserves a title opportunity more than anyone in the UFC's bantamweight division, his wish may not come true any time soon.
---