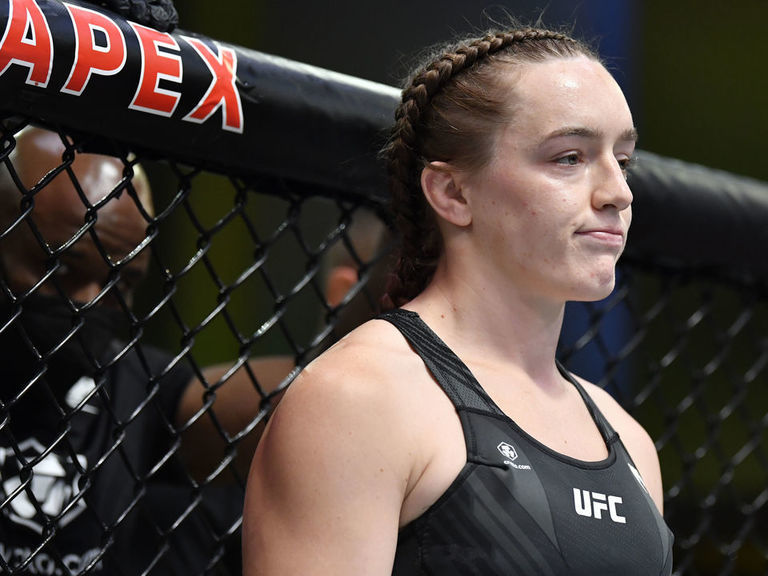 Ladd 'definitely' returns to bantamweight, then ogling Tate
Aspen Ladd is focused on the women's bantamweight division for the foreseeable future.
The UFC contender, whose last fight was at featherweight after running out of weight for a fight scheduled for October, plans to drop back down to 135 pounds for her next outing.
"My next fight will definitely be at bantamweight," Ladd said. John Morgan from MMA Junkie.
Ladd's featherweight debut ended in a lackluster decision loss to Norma Dumont in a UFC main event on short notice. The result came two weeks after Ladd weighed 1 pound above the bantamweight limit, causing his match against Macy Chiasson to be called off.
Dumont's loss marked Ladd's first trip to the cage since December 2019; a serious knee injury, her opponents' strikeouts and weight issues kept her sidelined for nearly two years.
The 26-year-old – who is ranked No.4 in the women's bantamweight division – wants to return in February or March, and she hopes to book a match against former champion Miesha Tate.
Tate criticized the corner job of Ladd's trainer and boyfriend Jim West, whom she believed to be verbally aggressive with his fighter between rounds against Dumont. Tate, who is 1-1 since retiring earlier in 2021, just lost a decision to Ketlen Vieira in a UFC main event in November.
"I really want this fight," Ladd said. "(Tate) said some things; let's handle this like adults."
Ladd was widely regarded as one of the most promising prospects in women's MMA after starting her UFC career with three straight wins, but she has now alternated wins and losses in her last four appearances.