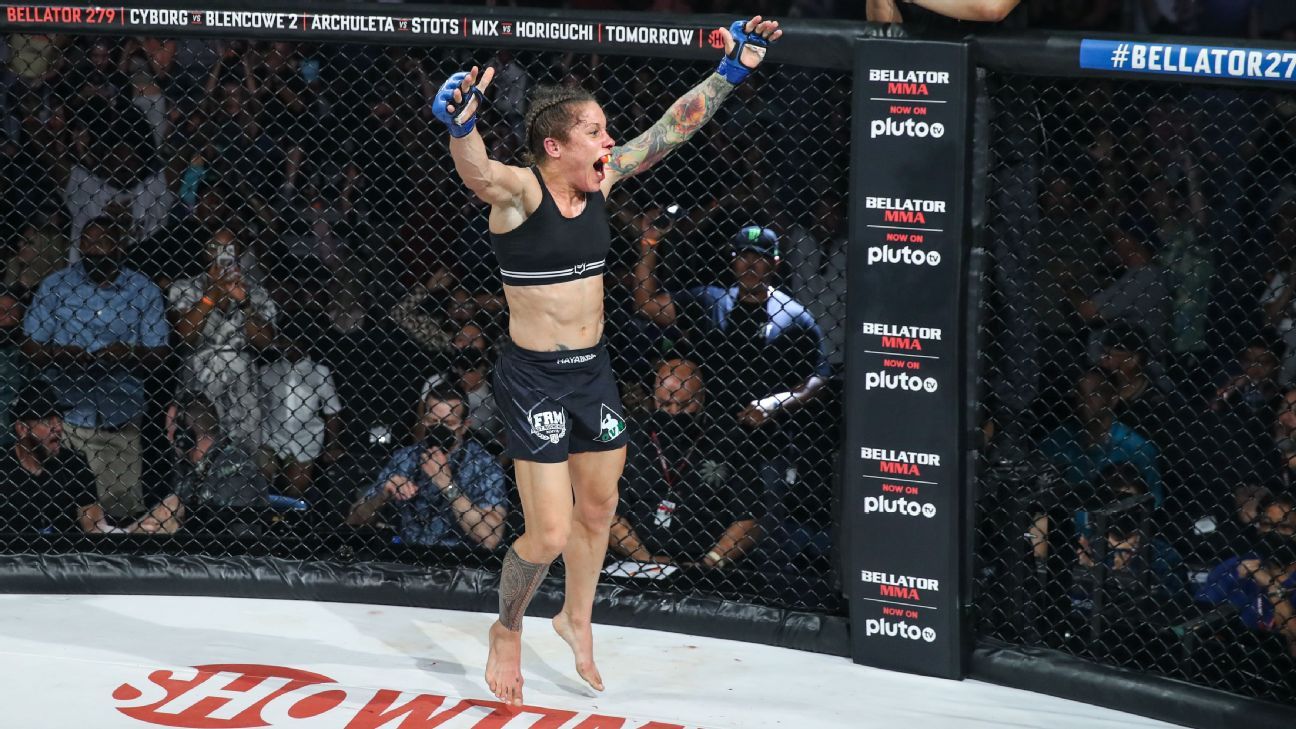 Liz Carmouche stops Juliana Velasquez to win Bellator women's flyweight title
Liz Carmouche has fought twice for a UFC title. In Strikeforce, she challenged gold once. In each of those three opportunities, the pioneer of women's MMA came away empty-handed.
Carmouche finally succeeded in exorcising his championship demons on Friday evening. She rallied for a TKO victory from behind at 4:47 of the fourth round to defeat previously undefeated Juliana Velasquez and claim the Bellator women's flyweight title in the main event of Bellator 278 in Honolulu.
To make the moment even sweeter, the card was reserved for the Neil S. Blaisdell Arena only for military personnel and first responders. Tickets were not available to the general public. Carmouche is a United States Marine Corps veteran.
"I'm so happy to do it here in front of all of our troops, our first responders," Carmouche said in his post-fight interview.
Velasquez immediately protested the stoppage of referee Mike Beltran, himself a former Navy detective and current Los Angeles County Sheriff's Department. Carmouche was in first position and caught Velasquez in a mounted crucifix, trapping Velasquez's arms as she landed elbows. Velasquez still appeared to be defending, but Carmouche said she didn't dispute Beltran's save.
"I know if she was squirming a little but more, I had other responses to that," Carmouche said. "They would have been really bad for her. So I'm glad he stopped that when he did."
Going in, ESPN had Velasquez ranked 6th in the world at women's flyweight. Carmouche was not classified.
Velasquez had solid first three rounds, using his long left right to confuse Carmouche. She dropped Carmouche with her left hand at the start of the second round and injured her multiple times. Carmouche managed to get takedowns on the second, third and fourth laps, with the latter leading to the finish.
Carmouche (17-7), who was the first fighter in UFC history to come out publicly as gay, has won four straight since signing with Bellator in 2019. The San Diego resident was released by the UFC following a loss to Valentina Shevchenko in a UFC Women's Flyweight title bout in August 2019.
Carmouche, 38, competed in the first-ever UFC women's bout against Ronda Rousey, a UFC women's bantamweight title bout at UFC 157 on Feb. 23, 2013. She fell to Marloes Coenen in a Strikeforce women's bantamweight title fight in 2011. But now she finally holds a gold belt after 12 years and 24 professional fights.
Velasquez (12-1) had won seven straight in Bellator and had one title defense, a victory over Denise Kielholtz last July. The Brazil native defeated longtime Carmouche sparring partner Ilima-Lei Macfarlane to win the belt in December 2020. The 35-year-old Velasquez, who was looking to pick up a win against someone like Carmouche, has been in the cage with some of the best fighters in women's MMA history.