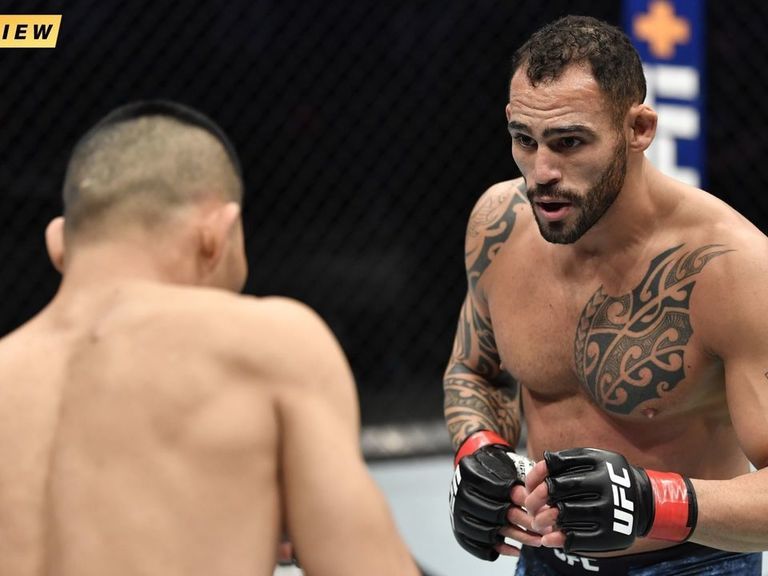 Ponzinibbio: 'Lucky punch' caused knockout loss, I'll always be UFC champion
UFC welterweight Santiago Ponzinibbio believes his last fight didn't precisely determine who the better fighter was.
Ponzinibbio suffered a first-round knockout loss to Li Jingliang in January upon returning from a two-year layoff caused by numerous health issues and injuries.
However, Ponzinibbio believes that if he fought Li 10 times, he would win more often.
"He only gave me one punch. Lucky stroke," Ponzinibbio told TheScore. "It hit the right spot. It doesn't mean anything. If he beat me for 15 minutes, that's okay. But no. He only (picked up) one punch. sport, it happens all the time. Not always the best fighters win. "
Ponzinibbio was on a ton of momentum before the layoff. After finishing Neil Magny in November 2018, he was ranked No.7 in the division and had won seven fights in a row. However, that momentum cooled with free time and then wore off completely after the loss to Li, which raised questions as to whether the 34-year-old was still a contender.
"Argentina Dagger" admitted he felt a bit rusty in the fight with Li, adding that he felt a lot better for his next clash against 170-pound hopeful Miguel Baeza at UFC Fight Night in Las Vegas. Saturday.
"I cannot compare my last camp with this camp," said Ponzinibbio. "He's a different person. I'm much better at everything."
After being away for what could have been two of his best years, Ponzinibbio just wants to stay active.
"I'm trying to put on a good activity, to fight as much as possible," he said. "I've wasted too much time. Now I'll try to fight as much as possible. I don't like wasting any more time. I'm very excited to get back to what I love to do."
The Florida resident is no longer a ranked welterweight, but he believes he could return to that position – and even the UFC welterweight championship – with a win over Baeza and a few others afterwards.
"I'm going to crush this kid," Ponzinibbio said of his opponent. "I'm going to show the world who I am. And after that I'm going to move on to the next one. I don't care who. I asked to fight soon. They gave me this kid. OK, I'm going to crush that kid. "They give me another kid, I'm gonna run over another kid. If i have to run over 10 guys, 20 guys, I don't care. I know I'm gonna fight for the belt."
"I know I am one of the best in the world," he added. "I know I can be a world champion."