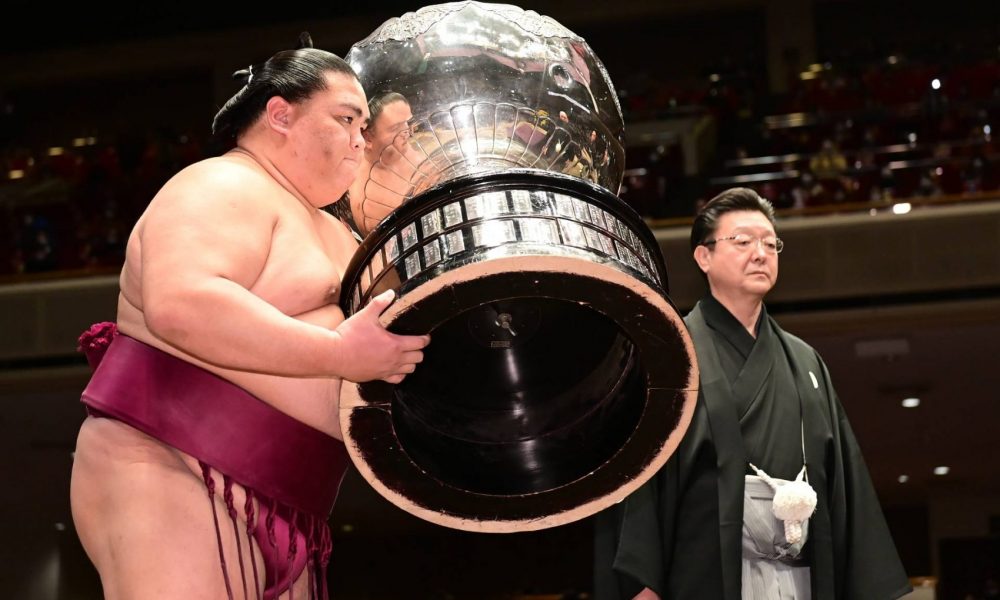 SUMO | Mitakeumi knocks down Yokozuna Terunofuji on the final day of the New Year's Tournament
~~
~
Sekiwake Mitakeumi upset grand champion Terunofuji on Sunday, January 23 to win the Emperor's Cup on the final day of the New Year's Grand Sumo Tournament and take a giant step towards promotion to the sport's second-highest ozeki rank. .
In the last fight of the day at Ryogoku Kokugikan, Mitakeumi launched the attack from the face-off and got an inside grip on the lone yokozuna before pushing him back with frontal force to make it 13-2 and secure his third career championship. . Terunofuji fell to 11-4.
Once Mitakeumi landed an inside double take on Terunofuji's belt, it was anything but in the books. Terunofuji was unable to mount a counterattack and walked out of the ring.
"I knew all I had to do was focus and stay true to my sumo," Mitakeumi said. "I just tried to go straight with all my might and keep going. I felt that if I could keep moving, I would win.
Mitakeumi, who was born in 1992 to a Japanese father and a Filipino mother, has won 33 in the last three tournaments and will be considered for promotion to ozeki.
A special meeting of the Sumo Officials Board will be held in the next few days and a formal decision will be made on Wednesday January 26th.
"I know there are high expectations around me and I want to live up to those expectations," Mitakeumi said. "I am very happy to be considered. The road has been long.
Mitakeumi, 29, was 11-4 in the November 2021 tournament and 9-6 in the September tournament.
"My goal was to get double-digit wins in two consecutive tournaments," Mitakeumi said. "I was fighting under pressure but I was also able to have fun. My sumo was better in the second half of the tournament.
Mitakeumi previously won the Emperor's Cup in July 2018 and September 2019.
Terunofuji was 12-4 against Mitakeumi in previous fights.
Terunofuji's quest to become the first wrestler in 103 years to win the first three consecutive tournaments after becoming a yokozuna failed.
Hampered by bad knees, Terunofuji faltered in the final week of the 15-day basho, losing three of his last four bouts.
In other fights, No. 6 maegashira Abi remained in contention in a previous matchup when he took down Kotonowaka to make it 12-3 and take home the tournament's Outstanding Performance award.
If Terunofuji had beaten Mitakeumi, Abi would have been part of a three-way elimination, but that was not the case.
Abi will probably switch to sports Sanyaku ranks, which includes komusubi and sekiwake.
Kotonowaka, a No. 14 maegashira, dropped to 11-4 and received the tournament's Fighting Spirit award.
The Mongol Hoshoryu used an underarm throw to send the 183-kilogram Aoiyama sprawling across the surface of the earth.
Eighth-ranked Maegashira Hoshoryu improved to 11-4 while No. 16 Aoiyama finished with an 8-7 record.
Top maegashira Wakatakakage displayed impressive footwork on the strawballs as he crushed Onosho to finish with nine wins and six losses. Fifth-placed maegashira Onosho fell to 10-5.
Number 2 maegashira Ura, who entertained fans with his unorthodox sumo, wrapped up a winning record when he overpowered Chiyomaru to make it 8-7. The No. 13 maegashira Chiyomaru fell to 7-8.
Shodai restored a small measure of ozeki pride when he used an impressive arm throw in the center of the ring to send Chiyoshoma knocking down to the dirt surface.
Shodai, who will face demotion at the March tournament unless he posts a winning record, finished with a disappointing 6-9 record. Fifth-placed Chiyoshoma suffered his 11th loss to just four wins.
Three stars
First star: Mitakeumi. By beating Terunofuji on the final day and winning six of his last eight matches, Mitakeumi silenced his critics and was rewarded for his efforts with a third career title.
Second star: Abi. After being suspended for breaking COVID-19 protocols, Abi completely turned his career around and is now one of the most promising wrestlers in the sport.
Third star: Hoshoryu. With a spectacular arm throw from Aoiyama, the Mongol Hoshoryu finished with an impressive 11-4 record after winning his last five bouts.
Author: Jim Armstrong
The author is a longtime journalist who has covered sports in Japan for over 25 years. You can find his articles here, on JAPAN Forward.